We are pleased to announce that the following scholars have received Tianzhu-SSHRC funding to come to UBC. Competitive fellowships were awarded to Maggie Mitchell, an incoming MA, and Xian'ao Wang, an incoming PhD.
The Tianzhu Foundation postdoctoral fellowship was awarded to Dr. Heawon Choi in 2016-17, and she will continue in 2017-18 teaching "Introduction to Buddhism".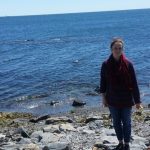 Maggie Mitchell:
Maggie completed her BA in Religious Studies at Mount Allison University in 2016. Her undergraduate research examined a contemporary account of rebuilding of a Chinese Buddhist temple on Wutaishan, looking at the role of both lineage and academia in this practice. She is interested in how Buddhist noncanonical sources from medieval China are used in reconstructing sites in China today. She is also interested more generally in sacred space, East Asian death practices, and using digital sources in the study of religion.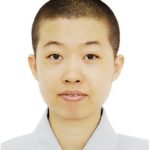 Xian'ao Wang:
Xian'ao received her BEc in Finance from Renmin University of China, and MA in Anthropology from Minzu University of China and MA in Buddhist Studies from the University of Hong Kong. She is finishing her MA in Buddhist Studies from SOAS, University of London, which is expected to be conferred later this year. Currently she is pursuing a PhD in Asian Studies, focusing on Chinese Buddhism. Her project is to examine the modern transformation of Chinese Buddhism and to rethink the categories of tradition and modernity of Buddhism in an increasingly globalized age.
Heawon Choi:
Heawon Choi is a Postdoctoral Fellow in the Department of Asian Studies. Her research interests include, but are not limited to, Buddhist traditions in East Asia and the intellectual and cultural history of Chinese religions with a special focus on the early to medieval era. She is particularly interested in the Chinese reception of Buddhism and the interaction and conflicts between Buddhism and native traditions. Similarly, her research interests concern the Buddhist influence on indigenous Chinese worldviews and further, on the religious/spiritual life of Chinese people. She intends to expand her research on the relationship between Buddhism and native traditions to include other East Asian countries, such as Korea and Japan, and beyond, utilizing a cross-cultural and comparative view. One of her current research projects deals with religious syncretism and pluralism in ancient China based on medieval Chinese Buddhist and secular texts. She attempts to approach the topic by employing various modern theories of religious/philosophical syncretism and pluralism. As a native Korean, she has studied at Yonsei University, Seoul (BA and MA), Northwestern University, IL (MA), and Stanford University, CA (PhD).