Brill Book Series: Studies on East Asian Religions
Studies on East Asian Religions seeks to break through the barriers between academic disciplines, sectarian divisions and geographical borders, in the scholarship on the religions of East Asia by bringing together scholars and sources that have not often been in dialogue before. Its field of research is the vast array of newly-available primary sources for the doctrines and practices of East Asian Religions. By promoting research that assembles material from across East Asia (the area in which, historically, written Chinese was a major language of religion and culture), this book series will make possible a broader view of regional interactions that does not privilege one locale or one vector of exchange. To do so, it will be essential to publish work in English by scholars from and of all parts of East Asia alongside that of researchers working in Europe and North America.
The series accept regular monographs, edited volumes, translations and occasionally collected volumes, all subject to peer review.
Please visit http://www.brill.com/products/series/studies-east-asian-religions for this book series.
Edited by James A. Benn, McMaster University, and Jinhua Chen, University of British Columbia
Advisory Board
T. H. Barrett (SOAS)
Raoul Birnbaum (UC at Santa Cruz)
William Bodiford (UCLA)
Steve Bokenkamp (Arizona State University)
Robert Buswell (UCLA)
Robert Campany (Vanderbilt)
Michael Friedrich (Hamburg)
Paul Groner (Virginia)
Huimin (Dharma Drum Institute of Liberal Arts DILA)
Richard Jaffe (Duke)
Charles Orzech (Glasgow)
Robert Sharf (Berkeley)
Kai Sheng (Tsing-hua)
Jonathan Silk (Leiden)
Takata Takio (Kyoto)
Koichi Shinohara (Yale)
Jacqueline Stone (Princeton)
Stephen Teiser (Princeton)
Barend ter Haar (Harvard)
Franciscus Verellen (EFEO)
Ru ZHAN (Peking University)
Editorial Board
Wendi Adamek (Calgary)
Anna Andreeva (Heidelberg)
Susan Andrews (Mount Allison)
Benjamin Brose (Michigan)
Lucia Dolce (SOAS)
Imre Galambos (Cambridge)
Vincent Goossaert (CNRS)
Natasha Heller (Virginia)
John Kieschnick (Stanford)
Hwansoo Kim (Duke)
Youn-mi Kim (Ewha Womans University)
Rick McBride (BYU)
Christine Mollier (CNRS)
James Robson (Harvard)
Meir Shahar (Tel Aviv)
Tansen Sen (CUNY)
Yinggang Sun (Zhejiang)
Wei-jen Teng (Dharma Drum Institute of Liberal Arts DILA)
Stuart Young (Bucknell)
Jimmy Yu (University of Florida)
This series is aimed at a much-needed platform for scholars on East Asian religions, and allows more effective communication between scholars active both within and outside East Asia.  The series is interdisciplinary in approach. It encourages a systematic use of methodologies employed in different disciplines, such as religious studies, political history, sociology, the history of war, the history of economies and international commerce. By stimulating new directions of research in East Asian religions, it encourages more empirical and innovative studies of different issues within the subject.
In addition to the scholars of East Asian studies and in particular scholars of East Asian religions, publications to be brought out through this series will be of interest to experts in other areas and a public audience as well.
This book series plans to promote multiple-source and interdisciplinary approaches to the study of East Asian religions by publishing the following four kinds of studies:
[1]. Conference Volumes
This series accepts volumes of papers from conferences on themes related to East Asian religions. A regular source of book manuscripts will come from the two annual conferences (on different aspects of Buddhism and East Asian religions) that Jinhua Chen organizes as a component of his annual summer and winter programs. For this purpose, Chen intends to streamline the organization of these annual conferences, paying particular attention to the choice and definition of the conference themes/topics, and the selection of the best scholars working on these specific topics. A committee will appoint one or two junior scholars to be in charge of each conference: from setting the theme through to the editing and publishing of the specific conference volume.
[2]. English Versions of Outstanding Studies by East Asian Scholars
Making available in English the works of some of the most prominent and representative scholars based in East Asia will significantly enhance communication between scholars working in East Asia and those from other nations.
[3]. Collections of Academic Essays by Distinguished Scholars
The shorter studies of a scholar, like journal articles or book chapters that have not been developed into his or her monographs, if collected together, may portray the broader view this scholar has conceived of East Asian religions as a whole. Some important scholars also published some of their major articles in obscure venues, or in languages other than English. As a result, these items have remained inaccessible or hard to access to a large part of the academic world. To publish collections of carefully selected articles by senior scholars on East Asian religions will surely present a fuller and more balanced picture of modern scholarship on East Asian religions.
[4]. Regular Monographs
We also solicit monographs on East Asian religions, particularly those that cross the boundaries traditionally set up between different religious traditions, like Buddhism, Daoism, Shintō, new religions, popular religion, etc. While we aim at contributions from scholars of different backgrounds, we particularly welcome excellent doctoral dissertations by fledging scholars.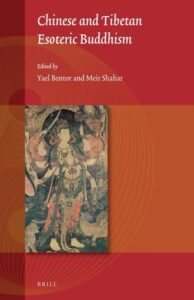 The first volume of the series, Chinese and Tibetan Esoteric Buddhism, is now available. Please visit https://brill.com/view/title/34456 for more information.
Edited by Yael Bentor (Hebrew University of Jerusalem), and Meir Shahar (Tel Aviv University)