By Gaëlle Boscals de Réals
I applied for the Mitacs Globalink award in the context of my master's degree in the East Asian Studies department of McGill University. This was done with three goals in mind. The first one is quite straightforward: I had a preliminary interest in Taiwanese Daoism and Popular Religions, perhaps in relation to urban vs rural places of worship, and needed to find a more precise and relevant problematic. Secondly, having taken all my classes in Canada, I was acutely aware of my complete lack of lived experience when it came to religiosity, the quasi-entirety of my knowledge coming from books and classes. Thirdly, I was hoping that living in Taiwan would help me improve my Mandarin. After a few months spent in Taiwan, I can observe the following.
After many perambulations in Taipei and Tainan, as well as some research at the National Cheng Chi University in Taipei, I decided to focus my research on the relationship between tourism and local temples. As has been noted by many, accrued competition between temples in the past seventy years has led those latter to try new strategies to cater to visitors, especially for temples that are far into the countryside. Thus, temples became places not only of worship but of tourism as well. An example of this is Wenheng Hall (Wen heng dian文衡殿) in Longqi District, in the periphery of Tainan city. In 2013, the temple committee decided to include three statues of Iron Man in the main hall, together with the main deity Guan Gong. The story behind this was that one member of the committee saw his grandson's infatuation for the Marvel hero and decided to include three life-size statues of him in the prayer hall. This way he could offer the opportunity to children who accompany their parents to worship to see their own heroes at the same time. Over the next few years, the three Iron Man were joined by models of Optimus Prime and Bumblebee from the Transformers franchise, then Hulk, Hulk-Buster, Thor, and Captain America from the Marvel Cinematic Universe (MCU). In addition to this, the temple complex also included a side exhibition hall that boasts an impressive trompe-l'oeil of Guan Gong's battles. This has proved to be successful in attracting visitors, some of which come mainly to pose for pictures. I have thus decided to focus my research on this temple, and further observe how the spheres of tourism, popular culture, and religion can overlap.
Regarding the second goal, I now realize even more that it was imperative for me to spend some time in Taiwan. As Malinowski would put it, there is an imponderability in the everyday life that makes it necessary to explore and engage directly with the field. These few months in Taiwan have been very important in that aspect and I am very grateful to the many temple volunteers and friends who took the time to explain their practice and share their opinions with me, accompanied me in temples, and included me in their events.
Finally, and probably least surprisingly, going to Taiwan allowed me to quickly improve my Chinese, both written and spoken, which then allowed me to engage with many people, books, and texts that were inaccessible before.
Those elements are only three of the many things living in Taiwan over those past months has taught me. I am thus very grateful for the opportunity offered by the Mitacs-Frogbear award to send students with an interest in East Asian religions in the field.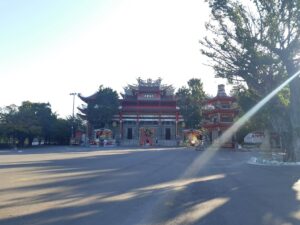 The outside of Wenheng Hall (Wen heng dian文衡殿), Longqi District.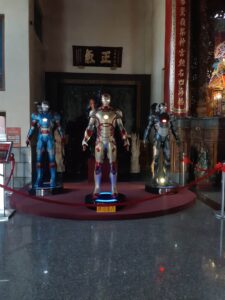 The three original Iron Man Statues from the Marvel Cinematic Universe (MCU) at Wenheng Hall, on the left of the main altar.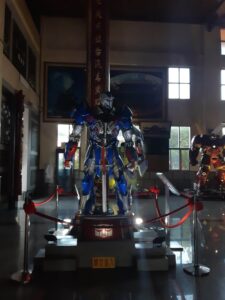 In the forefront a model of Optimus Prime from the Transformers franchise. In the background we can see the model of Hulk Buster from the MCU.