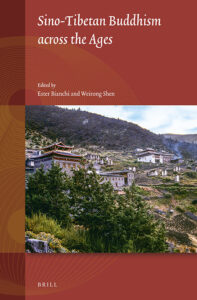 We are pleased to announce the release of the fifth volume in the series published by Brill: Sino-Tibetan Buddhism across the Ages. The book is edited by Ester Bianchi and Weirong Shen. For more information or to order, please visit https://brill.com/view/title/59694
This book introduces the reader to different cases of cultural intersections between Tibet and China in the field of Buddhism. The ten chapters provide a series of insights into Sino-Tibetan exchanges within religious practices and doctrines, material culture and iconography. Spanning from pre-modern encounters in Central Asia to contemporary forms of Sino-Tibetan hybridity in Chinese-speaking environments, Sino-Tibetan Buddhism Across the Ages produces further evidence that, beginning with the very  introduction of Buddhism into Tibet, there were constant and fruitful contacts and blending between the Buddhist traditions developing in China and those of Tibet.
Contributors are Urs App, Ester Bianchi, Isabelle Charleux, Martino Dibeltulo Concu, Alison Denton Jones, Weirong Shen, Penghao Sun, Wei Wu, Fan Zhang, and Linghui Zhang.
Table of Content:
List of Figures and Tables (Page: ix)
Notes on Contributors (Page: xi)
Introduction (Pages: 1–18)
Authors: Ester Bianchi and Weirong Shen
Part 1 Early Sino-Tibetan Buddhist Encounters

Chapter 1 An Invented Tradition: Hva shang Mahāyāna and His Teachings in Tibetan Literature (

Pages: 

21–66)


Author: Weirong Shen
Chapter 2 Attending to the Elders: Icons and Identities of Dharmatāla and Hva shang across the Sino-Tibetan Buddhist Landscape (

Pages: 

67–89)
Author: Linghui Zhang
Chapter 3 To the Place Where Tea Comes from: Gyi-ljang's Trip to China (

Pages: 

90–110)


Author: Penghao Sun
Chapter 4 Edicts and the Edible: Digesting Imperial Sovereignty in Lhasa (

Pages: 

111–138)
Author: Fan Zhang

Part 2 Tibetan Tantra in the Modern World

Chapter 5 Tibetan Theosophy: Helena Blavatsky's Tantric Connection (Pages: 141–169)
Author: Urs App
Chapter 6 Tantrism, Modernity, History: On Lü Cheng's Philological Method (

Pages: 

170–221)
Author: Martino Dibeltulo Concu

Part 3 Modern Forms of Sino-Tibetan Hybridity

Chapter 7 The Combined Practice of Vinaya and Tantra in Nenghai's Path to Liberation (

Pages: 

225–252)
Author: Ester Bianchi
Chapter 8 Approaching the Perfection of Wisdom: Nenghai's Interpretation of the Ornament of Realization (Pages: 253–277)
Author: Wei Wu
Chapter 9 Accidental Esoterics: Han Chinese Practicing Tibetan Buddhism (

Pages: 

278–316)
Author: Alison Denton Jones
Chapter 10 Tibeto-Mongol and Chinese Buddhism in Present-Day Hohhot, Inner Mongolia: Competition and Interactions (

Pages: 

317–363)


Author: Isabelle Charleux
Index (Page: 365)
Click here to the original posting