Time: Thursday, March 31, 2022 – 6:00 PM PDT/ 8:00 PM CDT/ 9:00 PM EDT
Abstract: Buddhism played an important role in Chinese history after the fourth century and had gradually become part of Chinese culture. However, there are conflicting opinions about the overall trend of Chinese Buddhist development after the Tang Dynasty, especially after the Great Anti-Buddhist Persecution initiated by Emperor Wuzong of Tang. According to the inscriptions of two stone steles in Shanquan Temple carved in Tang Dynasty, namely the "Li Pin Shu Si Bei" and "Bangwen Bei", Shanquan Temple was destroyed and the properties of the temple were sold during the Great Anti-Buddhist Persecution. In 867, Li Pin, the military governor of Zhaoyi (Zhaoyi jiedushi), donated his own salary to redeem and rebuild the temple. Two years later, Li Pin established the management mode of the institution of public monastery (shifang conglin). The case of Shanquan Temple can help us to better understand the development of Chinese Buddhism after the Great Anti-Buddhist Persecution. Due to the interaction of emperors, local governors, local famous families and the monks, there was a rapid revival of Buddhism in southeast China in the late ninth century. Chinese Buddhism showed no obvious signs of decline at least during the 10th and 11th centuries.
About the Speaker: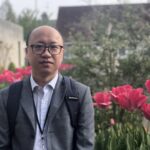 Dr. Ziyong You is a professor in the School of History at Capital Normal University, Beijing, China. He is also an associate editor of the Journal of Dunhuang and Turfan Studies. Dr. You's research interests focus on Medieval Chinese history and the manuscripts of Dunhuang and Turfan.
Dr. Li is visiting the University of British Columbia from September 2021 – September 2022.
This lecture will be presented in Mandarin Chinese.