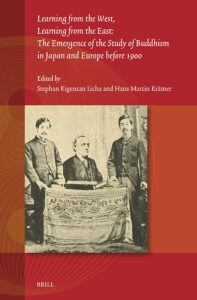 We are pleased to announce the release of the ninth volume in the series published by Brill: Learning from the West, Learning from the East: The Emergence of the Study of Buddhism in Japan and Europe before 1900. The book is edited by Stephan Kigensan Licha and Hans-Martin Krämer. For more information or to order, please visit https://brill.com/view/title/61003
The essays collected in this volume for the first time foreground the fundamental role Asian actors played in the formation of scholarly knowledge on Buddhism and the emergence of Buddhist studies as an academic discipline in Europe and Asia during the second half of the nineteenth century.
The contributions focus on different aspects of the interchange between Japanese Buddhists and their European interlocutors ranging from the halls of Oxford to the temples of Nara. They break the mould of previous scholarship and redress the imbalances inherent in Eurocentric accounts of the construction of Buddhism as an object of professorial interest.
Contributors are Micah Auerback, Mick Deneckere, Stephan Kigensan Licha, Hans Martin Krämer, Ōmi Toshihiro, Jakub Zamorski, Suzanne Marchand, Martin Baumann, Catherine Fhima, and Roland Lardinois.
Table of Content:
Preliminary Material (Page: i–ix)
Editors: Stephan Kigensan Licha and Hans Martin Krämer
Copyright Page 
Editors: Stephan Kigensan Licha and Hans Martin Krämer
Notes on Contributors
Editors: Stephan Kigensan Licha and Hans Martin Krämer
Introduction (Pages: 1–44)
Editors: Authors: Stephan Licha and Hans Martin Krämer
Part 1 Meiji Japan
The Institute for the Defense of the Dharma and the Study of Christianity in a Japanese Buddhist Context, 1858–1872 (

Pages: 47

–92)


Author: Micah Auerback
Buddhism as an Object of Academic Inquiry in the Early Work of Ishikawa Shuntai (1842–1931)  (

Pages: 93

–125)


Author: Mick Deneckere
Hara Tanzan, Yoshitani Kakuju, and the Academization of Buddhist Studies (

Pages: 126

–152)
Author: Stephan Kigensan Licha
Mahayana in Europe: Friedrich Max Müller and His Japanese Interlocutors (

Pages: 155

–191)
Author: Hans Martin Krämer
Buddhist Studies in Japan: The Case of Takakusu Junjirō (

Pages: 

192–214)
Author: Ōmi Toshihiro
Yang Wenhui and Nanjō Bun'yū: A Sino-Japanese Perspective on the Introduction of Modern Buddhist Studies to East Asia (

Pages: 215–250

)
Author: Jakub Zamorski
Part 3 European Orientalism
On Buddhist Studies in Nineteenth-Century Germany (

Pages: 253–283

)
Author: Suzanne Marchand
Discovering and Appropriating the Buddha: Scholarly Studies of the so-Called Southern Buddhism in Nineteenth Century Europe (

Pages:

284–308)
Author: Martin Baumann
Sylvain Lévi's Asian Humanism: Buddhist Studies in France before World War I (

Pages: 309–354

)
Author: Catherine Fhima and Roland Lardinois
Index
Editors: Stephan Kigensan Licha and Hans Martin Krämer
Click here to the original posting