Cluster Leader: Marcus Bingenheimer, Temple University
The cluster "Religion and Technology" investigated how emerging technologies in the digital humanities can contribute to the study of religion in East Asia. In a series of workshops Simon Wiles (Stanford CIDR), Oliver Streiter (National University of Kaohsiung), and Marcus Bingenheimer (Temple University) taught the foundations of GIS-based surveys and map creation (2017), historical social network analysis (2018), and GIS and aerial photography with drones (2019). Workshops included theory and classroom training in the use of software tools as well as intensive fieldwork.
The fieldwork and training aspect of this cluster aimed to show how recent advances in information technology can be gainfully applied to the study of Asian religions. The first workshop (2017) resulted in a comprehensive dataset of c.150 religious sites of two districts in Taiwan (Jinshan and Shimen). The second workshop (2018) resulted in visualizations and improved data for social networks in Chinese and Singaporean religious history. In the third workshop (2019) participants produced drone footage of selected sites from the 2017 survey.
This Frogbear cluster was generously supported by the Dharma Drum Institute of Liberal Arts, the National University of Singapore, the Chung-hwa Institute of Buddhist Studies, and Fu Jen University.
Cluster webpage for 2017: http://spaceandcyberspace2017.mbingenheimer.net/
Cluster webpage for 2018: http://sna2018.mbingenheimer.net/
Cluster webpage for 2019: http://mbingenheimer.net/workshops/gis/
View digital data collection from Cluster 1.2 here.
The report from the 2018 field visit can be found here.
An article from the DILA newsletter on the 2019 field visit can be found here.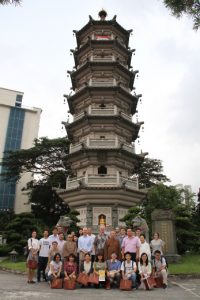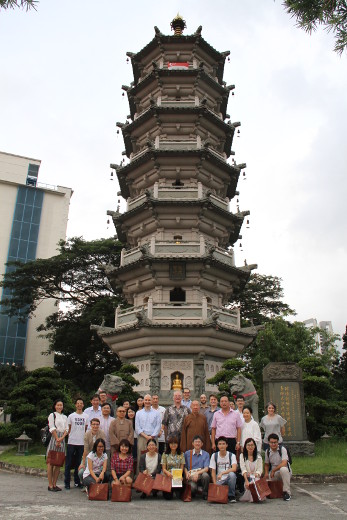 2018 field visit team
| | |
| --- | --- |
| Affiliated Researchers | Associated Researchers |
| Anderl, Christoph (Ghent University) – 2017 | Buckelew, Kevin (Columbia University) – 2017 |
| Baycroft, Anne (University of Saskatchewan) – 2019 | Chang, Hsiukai (Donghai University) – 2018 |
| Brandstadt, Max (University of California Berkeley) – 2018 | Chang, Pi-chun (National Taiwan Normal University) – 2017 |
| Burdorf, Suzanne (Ghent University) – 2017 | Chang, Poyung (DILA) – 2018 |
| Chen, Ruifeng (McMaster University) – 2018 | Chen, Ling (Leipzig University) – 2018 |
| Gilon, Matan (Tel Aviv University) – 2019 | Chia, Jack Meng-Tat (National University of Singapore) – 2018 |
| Heller, Natasha (University of Virginia) – 2018 | Chong, Eng Keat William (National University of Singapore) – 2017 |
| Lai, Rongdao (University of Southern California) – 2018 | Chong, Eng-Keat William (Independent) – 2018 |
| Li, Xinglong (Capital Normal University) – 2019 | Han, Seokyong (Independent) – 2018 |
| Rusk, Bruce (University of British Columbia) – 2018 | Hu, Jing (Leiden University) – 2018 |
| Saulnier-Eagles, Emily Lynn (Mount Allison University) – 2019 | Hung, Jen-jou (Dharma Drum Institute of Liberal Arts) – 2017 |
| Shmushko, Kai (Tel Aviv University) – 2019 | Kuklinski, Thomas (Temple University) – 2018, 2019 |
| Sun, Xuejing (University of Southern California) – 2019 | Li, Xinlu (Dongnan (Southeast) University) – 2017 |
| Wang, Michelle (Georgetown University) – 2019 | Lin, Peiying (Fu-jen University) – 2017 |
| Wu, Jinhui (University of Arizona) – 2017 | Liu, Jenny Chao-hui (Princeton University) – 2019 |
| Zu, Jessica Xiaomin (Princeton University) – 2018 | Park, Boram (Chungbuk University) – 2019 |
| | Qu, Yadi (SOAS) – 2019 |
| | Scarin, Jacopo (Ca'Foscari University, Venice) – 2018, 2019 |
| | Seymour, Kelsey (University of Pennsylvania) – 2017 |
| | Shen, Lien Fan (University of Utah) – 2017 |
| | Stanley-Baker, Michael (Nanyang Technological University) – 2018 |
| | Streiter, Oliver (National University of Kaohsiung) – 2017, 2018, 2019 |
| | Tischer, Jacob (Boston University) – 2018 |
| | To, Mandy Manwai (National University of Kaohsiung)- 2019 |
| | Travis, Travis (Temple University) – 2017 |
| | Wiles, Simon (Stanford University) – 2017, 2018, 2019 |
| | Wu, Jinhui (Arizona University) – 2017 |
| | Yan, Weiguang (Capital Normal University) – 2017 |
| | Zhan, Ya-Qing (National Taiwan University) – 2019 |
| | Zhang, Ming Yeung (FuJen University) – 2019 |
| | Zhao, Jinchao (University of Virginia) – 2018 |
| | Chen, Song – 2018 |
Additional workshop participants from the National University of Singapore in 2018:
| | |
| --- | --- |
| Chua, Hui Chuan | Deng, Shengtao |
| Dong, Chang | Feng, Yikang |
| Gao, Bin | Huang, Zichang |
| Li, Cuiqin | Lin, Ruo |
| Liu, Jianyi | Lu, Shuang |
| Shen, Yeying | Su, Jui-lung |
| Sun, Yuanxin | Tham, Shiao Wei |
| Wang, Dean | Wang, Sisi |
| Wang, Xin | Wang, Yuxiao |
| Wu, Qi | Xuan, Yan |
| Xue, Yiran | Yang, Yan |
| Yang, Zhizhong | Yap, Sze Sze |
| Ye, Haoling | Yu, Kang |