Dr. Rey-Sheng Her's lecture in Chinese
Dr. Rey-Sheng Her's lecture in English
Time: Tuesday, October 12, 2021 – 6:00 am PDT/ 8:00 am CST / 9:00 am BST
Abstract: The lecture analyzes the reasons underlying the disappearance of Indian Buddhism during and before the 13th century, and the decline of Chinese Buddhism after the Ming Dynasty. The modernization of Buddhism must aim to better the society and apply its philosophy and practices to contribute to the well-being of the secular world. Buddhism could generate larger global impacts through reformulating Buddhist philosophy, reforming organizations, and promoting spiritual practices. The future of Buddhism relies on its continuous adaption to and influences on our modern society.
About the Speaker: Dr. Rey-Sheng Her (何日生博士) is an Associate Professor of the Institute of Religion and Culture at College of Humanity and Social Science, Tzu Chi University; and the Spokesman and Director of Humanity Development of the Buddhist Tzu Chi Foundation. Dr. Her received his Ph.D. in Philosophy from Peking University. Master of Art on Communication Management, the Annenberg School for Communication of the University of Southern California. As a veteran media professional, he was a senior news anchor and TV program producer. The documentary he produced "The Great Love as a Running Water: Testimony to the Development of Bone Marrow Transplantation", was selected as the best documentary in the regions of Asia and Africa of the 32nd Emmy Award International. Dr. Her has delivered speeches on Buddhism and NGO Management at Harvard University, Oxford University, Peking University, Renmin University of China, Beijing Normal University, and the University of Hong Kong, and many international symposiums.
Discussants: Richard Madsen (Professor Emeritus of Sociology, UC San Diego), Elise Anne Devido (Department of English Language and Literature, Tzu Chi University)
This lecture is part of the Yin-Cheng Distinguished Lecture Series on Buddhism, hosted by Harvard CAMLab.
Note: [This lecture will be presented with simultaeneous translations in English and Mandarin Chinese. ]
This event is free to public via Zoom but advance registration is required. This event will also be livestreamed on Youtube.

About the Yin-Cheng Distinguished Lecture Series
Launched in September 2021, the Yin-Cheng Distinguished Lecture Series (印證佛學傑出學術系列講座) is a collaborative, multi-university partnership between Peking University, Columbia University, Princeton University, Harvard University, University of British Columbia, University of Oxford and University of Cambridge. The Lecture Series is established in honour of Venerable Cheng-yen 證嚴, founder of Tzu Chi, and her mentor Yinshun 印順 (1906–2005), with the goal of promoting topics in Buddhist studies.
Click here for the original post.
Download the
English poster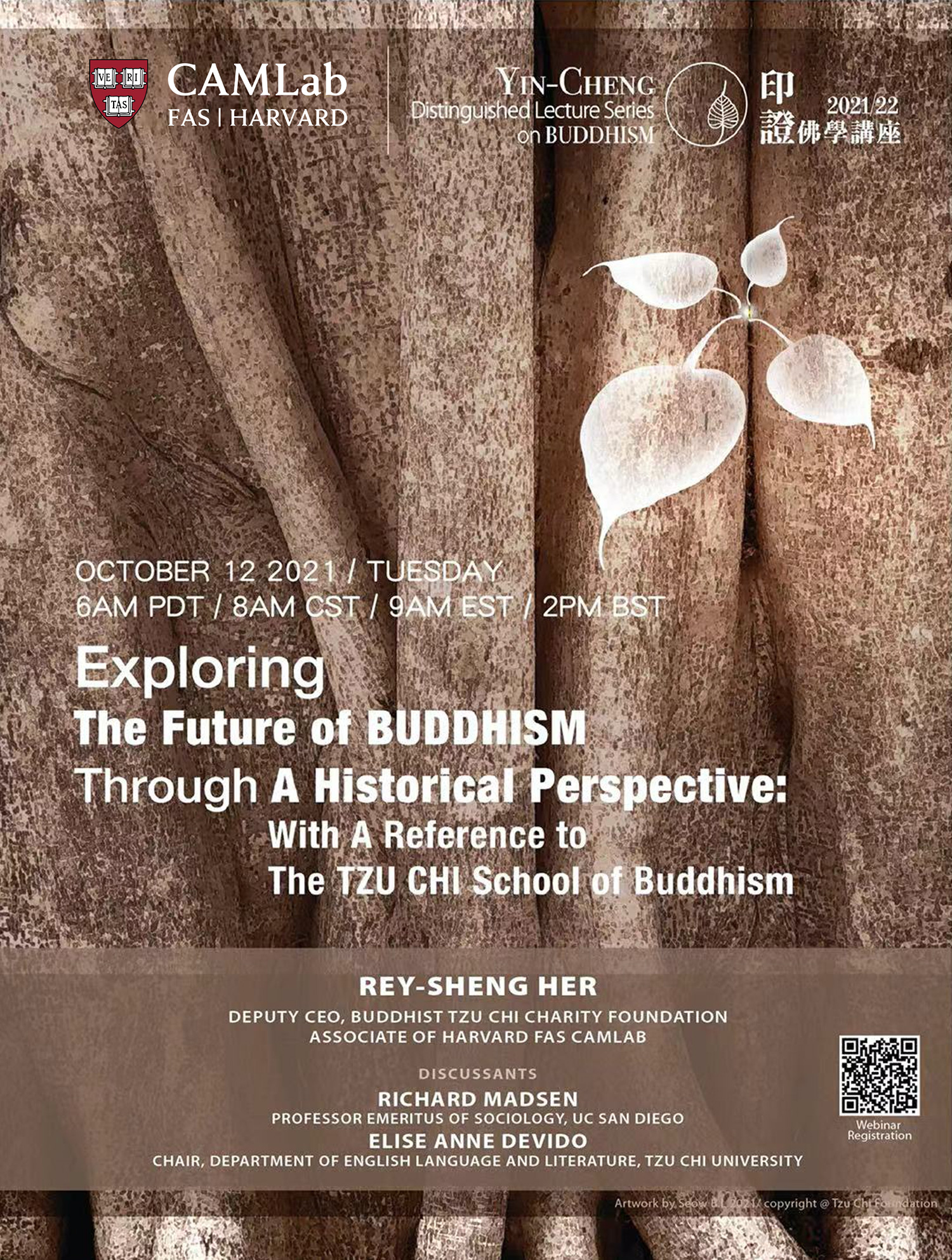 Download the
Chinese poster