S.527. © British Library. IDP.
Speaker: Hao Chunwen, IAS, Capital Normal University
Date: January 24, 2022, Monday, 3:30-5:00 p.m. EST, via Zoom
Zoom link to meeting: https://theias.zoom.us/j/88297030935?pwd=bitERkFJSzM1dFZmMWpwZjhOcFd1dz09
Meeting ID: 882 9703 0935
Passcode: 606002
If you plan to attend please RSVP Brett Savage, bsavage@ias.edu.
About the speaker: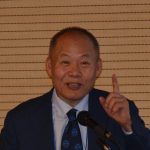 Chunwen Hao's primary research interests are Dunhuang manuscripts and Buddhism in China. Hao's current work includes a project on Dunhuang documents kept in the U.K. and primary sources related to social history, as well as a study of notes and commentaries on Buddhist scriptures in Dunhuang manuscripts (ca. 500–1000).
See https://www.ias.edu/hs/eas