Dr. Charles Li
"What Use is a Digital Edition?" 
Venue: Asian Centre Room 604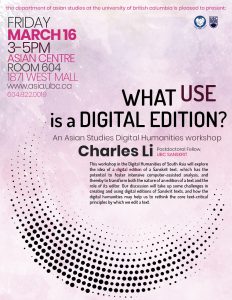 When: Friday, March 16, 3-5 PM
This workshop in the Digital Humanities of South Asia will explore the idea of a digital edition of a Sanskrit text, which has the potential to foster intensive computer-assisted analysis,
and thereby to transform both the nature of an edition of a text and the role of its editor. Our discussion will take up some challenges in creating and using digital editions of Sanskrit texts,
and how the digital humanities may help us to rethink the core text-critical principles by which we edit a text.
Biography:
Charles Li (Ph.D. 2018, Cambridge University) is a specialist in Sanskrit grammar and literature, Indian Philosophy, Buddhist Studies, and South Asian Digital Humanities.
We are pleased to have Dr. Li with us at the Dept. of Asian Studies as a Postdoctoral Research Fellow to develop a comprehensive tool for digitally editing, analyzing, and presenting Sanskrit manuscripts.
In these two presentations, he will offer insights into his scholarly research in Buddhist Studies as well as a more informal demonstration/workshop on current developments and issues in digital approaches to premodern textualities.
Faculty and especially students from all disciplines and areas of focus are invited to attend as Dr. Li's work engages with multilingual and multidisciplinary materials.
Both March 14 and March 16 events are free and open to the public, and light refreshments will be provided.