We are pleased to announce a FROGBEAR Mitacs project in China!
Participant: Vivian (Xiao Wen) Li
Host Institution: Sun Yat-sen University
Date: June–August 2023
Project Title: On Chinese Philosophy and Memory: Examining Chan Buddhism Recollection, Ritual, and Narrative
Summary:
While there is research related to Chan Buddhism memory principles, and Western novels published alluding to Chinese Philosophy, there are limited resources bridging and exploring the possibilities of both realms. Through the Mitacs Globalink Awards, and under the supervision of Professor Gong Jun at Sun Yat-Sen University, she will be researching archives, temples, and libraries to explore intersections between memory, Chan Buddhism, and Chinese literature. While working on her novel exploring mental health and Chinese Philosophy in a narrative where time is a fluid entity, she will combine Chan Buddhist concepts with non-linear narrative styles that could help highlight the Chinese Canadian diaspora experience.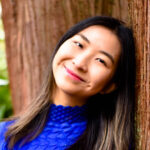 Vivian (Xiao Wen) Li is a third-year MFA Candidate at the UBC School of Creative Writing. Inspired by her undergraduate studies in English and Philosophy at the University of Toronto, as well as the research for her adult thesis novel, she is interested in the interconnections and relationships between Chan Buddhist principles, memory, and literature.
Check out our call for Mitacs Globalinks Research Award application