We are pleased to announce a FROGBEAR Mitacs project in Taiwan!
Participant: Gaëlle Boscals de Réals
Host Institution: National Cheng Chi University
Date: August – November 2022
Project Title: Religion, Modernization and Spatiality in Taiwan
Summary:
The country has been undergoing an important religious revival in the past forty-years. However, while religiosity used to be mainly locally based, the progressive modernization of the island led to new forms of country-wide temple lineages and displaced forms of worship. The aim of this project is to look at how this shift in religious location took place as well as how it is lived, produced, and assumed by the Taiwanese urbanites. Through the Mitacs Globalink Awards, Gaëlle Boscals de Réals will gain the opportunity to be a visiting student at the Graduate Institute of Religious Studies at the National Chengchi University, Taipei. Under the mentorship of the host supervisor, Professor Yu-Chen Li, Boscals de Réals will be able to do the necessary on-ground research in major cities such as Taipei and Tainan, and come up with both empirical data and a suitable problematic for their MA thesis. As a visiting student, Boscals de Réals also plans to visit the unique library collection, and thus gain necessary access to the history of current temple lineages.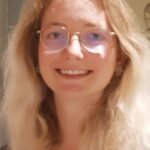 Gaëlle Boscals de Réals is a second year Master's student at McGill university. After a bachelor in Anthropology and East Asian Studies, she decided to pursue her interest in Chinese Religion by looking more closely at Taiwanese spiritualities, especially in urban settings. More precisely, her research interest focuses on how institutional changes in the past forty years affected everyday practice in larger cities.
Read Gaëlle Boscals de Réals' report
Check out our call for Mitacs Globalinks Research Award application