Watch the full lecture on YouTube:
We are pleased to announce the second winner of the Tianzhu Book Prize for Excellence in Chan Studies. The recipient of the 2019 award is Dr. Sam van Schaik, Head of the Endangered Archives Programme at the British Library, for his book 
The Spirit of Zen
 (Yale University Press, 2018).To celebrate the award, Dr. van Schaik will deliver a lecture at UBC on September 21, 2019.
See Gallery of photos here.
Date: 7 pm, Saturday, September 21, 2019
Venue: UBC St. John's College
Abstract:
It is well known that 'Zen' (or Chan or Son) means 'meditation'. But there is less agreement about what meditation itself meant to early Zen teachers and their students. In this talk I will look at the Zen lineage history called 'The Masters and Students of the Lanka', as well as well as some Zen teachings preserved in Tibetan translation, to see what light they shed on early Zen meditation teaching. I will argue that these sources show that there was a multiplicity of meditation methods in early Zen writings. Rather than meditation meaning one thing (or nothing) to these early teachers, it could mean many things. But I will also suggest that there is evidence for a developing 'Zen approach' to meditation, for example in statements that there is no buddha apart from the mind, and that one should not be attached to the act of meditation itself.
About the Speaker: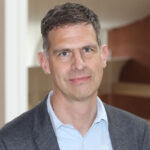 Sam van Schaik is the head of the Endangered Archives Programme at the British Library, which facilitates the digitisation of archives and manuscripts around the world that are at risk of deterioration or destruction. He received his Ph.D. in Tibetan Buddhism from the University of Manchester, after which he worked for the International Dunhuang Project at the British Library, where his research encompassed Tibetan tantric practice, early Zen, the study of Buddhist manuscript cultures, and the spread of Buddhism along the Silk Routes. His publications include Tibet: A History (Yale, 2011), Tibetan Zen (Snow Lion, 2015) and The Spirit of Zen (Yale, 2018). A new book entitled Buddhist Magic will be published in 2020.
This guest lecture is free and open to the public, but pre-registration is preferred. Register at: https://www.eventbrite.ca/e/tianzhu-book-prize-lecture-dr-sam-van-schaik-tickets-70962263039.
This lecture is sponsored by Tianzhu Global Network for the Study of Buddhist Cultures with administrative support from FROGBEAR