Time: May 9, 5:00 pm (Taiwan) | 11:00 am (Paris) | 2:00 am (Vancouver) 
Inalco, Auditorium Georges Dumézil, 2 rue de Lille, 75007 Paris
YouTube Live stream (see below)
Prof. Gareth Fisher's lecture in English
Prof. Gareth Fisher's lecture in Chinese
Abstract: The number of mainland Chinese of traditional college age that are studying overseas in undergraduate programs has increased significantly over the last decade. Moreover, in spite of new restrictions from Trump administration policies and the COVID pandemic, the United States remains the favored destination for many of these students. Existing scholarship has explored how American-based Chinese Christian groups often attempt to convert these overseas students. However, my research suggests that they are also recruited by transnational Buddhist groups, mostly coming from Taiwan. While Buddhists suffer less stigma in China than Christians, Buddhist teachings and practices are still largely invisible to many urban Chinese, who live in a highly secularized environment. As a result, overseas Chinese students may experience Chinese forms of Buddhism for the very first time in the United States. Buddhism becomes attractive to these students by offering culture-specific psychological support, a fellowship of Mandarin-speaking people their own age, and an opportunity to explore aspects of their own culture to which they were ignorant. This paper explores these phenomena by focusing on three Chinese youth who joined meditation centers in Atlanta and Houston operated by the Taiwanese Buddhist organization Chung Tai Shan during their undergraduate years. It will examine how the organization transformed the students' lives in the United States and influenced them to spread Chung Tai teachings back to mainland China following their graduation. The paper will conclude by exploring the potential for returning overseas students to diversify the Buddhist landscape in mainland China.
About the Speaker: Gareth Fisher (Syracuse University)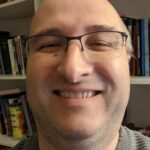 Gareth Fisher received his PhD in socio-cultural anthropology from the University of Virginia in 2006. He is currently Associate Professor of Religion and Anthropology at Syracuse University. His research concerns the revival of Buddhism in 21 st century China, focusing on two main projects. The first of these explores how laid-off workers in China's capital Beijing during the early 2000s converted to Buddhism to gain new moral purpose in urban Chinese society following its abrupt economic transition from a planned socialist to a market-based economy. The second focuses on how urban-based lay practitioners and monastics construct new temples throughout mainland China as places to enact their moral visions for social reform. It explores how this new temple construction aims at creatively redrawing the lines between religion and secularity in China today. He is the recipient of two Fulbright fellowships as well as research fellowships at Yale University and the Max Planck Institute for the Study of Religious and Ethnic Diversity.
About the Discussant: Pan Junliang (Université Paris Cité)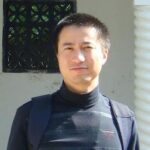 Pan Junliang received his PhD in Religious Science from École Pratique des Hautes Études in 2013. He is currently an associate professor of history at the Université Paris Cité. His research focuses on Chinese popular religion, Daoism and Religions of overseas Chinese. His recent publications include Wenzhou daojiao shi 溫州道教史 (2022) and "Le médiumnisme wenzhou en contexte diasporique : continuité et adaptation" (2023).
About the Host: Ji Zhe (Inalco)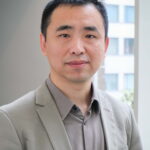 Ji Zhe is Professor of Sociology and Holder of the Inalco-Sheng Yen Chair of modern and contemporary Chinese Buddhism at the Institut national des langues et civilisations orientales (Inalco) in France. He has also been leading the Centre d'études interdisciplinaires sur le bouddhisme (CEIB) since 2016. His research focuses mainly on Buddhism and the relationship between religion and politics in modern and contemporary China. His recent publications include Religion, modernité et temporalité : une sociologie du bouddhisme chan contemporain (CNRS Editions, 2016), Making Saints in Modern China (co-edited with David Ownby and Vincent Goossaert, Oxford University Press, 2017), and Buddhism after Mao: Negotiations, Continuities, and Reinventions (co-edited with Gareth Fisher and André Laliberté, University of Hawai'i Press, 2019).
Free and open to the public. The webinar will be in person, on Zoom, and live streamed via YouTube.
See original post
About the Yin-Cheng Distinguished Lecture Series: Launched in September 2021, the Yin-Cheng Distinguished Lecture Series (印證佛學傑出學術系列講座) is a collaborative, multi-university partnership between Peking University, University of Oxford, University of Cambridge, Inalco (Institut national des langues et civilisations orientales), Princeton University, Harvard University, and the University of British Columbia. The Lecture Series is established in honour of Venerable Cheng-yen 證嚴, founder of Tzu Chi, and her mentor Yinshun 印順 (1906–2005), with the goal of promoting topics in Buddhist Studies.
Click to download the poster.
rs Poster_Gareth Fisher distinguished lecture_May 9_version 5