Our teams collect textual and related evidence and make it available to the public via an open access digital repository housed at the University of British Columbia (UBC).
Please click HERE to view the project's material in the UBC Library's Open Collection.
This collection will act as the basis for scholarly symposia, conferences, and a rotating exhibition, all of which will establish UBC as a leading centre for the study of East Asian religions and cultures.
---
For project participants:
Here you will find documentation about the data collection process. Click on graphics to see a larger version.
Key Documents: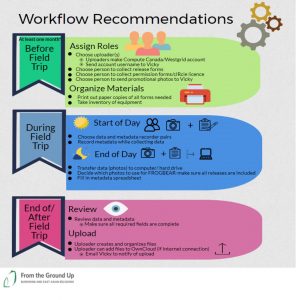 Workflow for Data Collectors
This document outlines the general activities and considerations while collection material.
Metadata Template
This is the electronic document that must be submitted along with all material and permission forms. The material cannot be used if not completed properly.
Metadata Guidelines For Titles and Description
This explains and provides further examples on how to complete the 'Title' and 'Description' fields.
For use in the field (to print hard copies):
Metadata_Template_Instructions
This contains the same information as the electronic version, and can be used as a cover sheet.
Printable Creator Metadata
Enter details about the person who is taking the picture/video/audio. There is space to list up to three people.
Printable Metadata
These can be used to write down data while in the field. Print several copies.
Additional information for 'uploaders':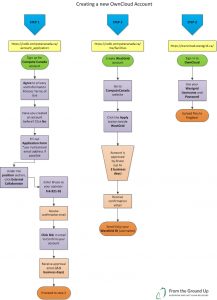 Obtaining and Using OwnCloud Account
All people who will be uploading material for the project will need an OwnCloud Account.
While it does take some time to set up, it is like Dropbox and easy to learn.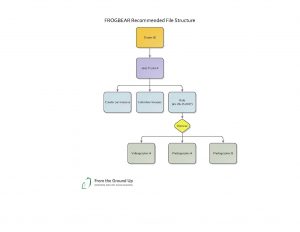 File Folder Structure
This structure will enable the material to be uploaded efficiently to the repository.
FROG_Metadata.fls
This file is for a method to capture a list of file names from a folder on your computer to facilitate data entry (more explained in the documentation)
Forms
cIRcle License.pdf
Each person that takes a picture/video/audio is required to submit the form, answering YES to both questions (all material will be open access)
Frogbear_Consent to Disclosure of Personal Information
This form must be signed by each person who is identifiable in the material, including project participants. This is required by Canadian Privacy Law, and we are unable to use material if these are not submitted. Bilingual versions in other languages are below.
Frogbear_Consent to Disclosure of Personal Information_Japanese
Frogbear_Consent to Disclosure of Personal Information_korean
Frogbear_Consent to Disclosure of Personal Information_SimpCh
Frogbear_Consent to Disclosure of Personal Information_TradCh