Chinese Transformation of Buddhism & Crossborder Transmission of Buddhism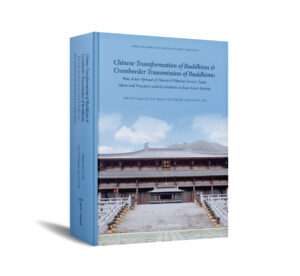 Editors: Jing YUE 淨月, Jinhua CHEN 陳金華, Song WANG 王頌
Series: Famed Mountains and Great Monasteries
ISBN: 978-981-18-4152-1
Date of Publication: 2022-04-15
Publisher: World Scholastic Publishers
Pages: 607
Format: Hardcover
Chinese Transformation of Buddhism & Crossborder Transmission of Buddhism: Pan-Asian Spread of Tiantai/Ch'ŏnt'ae/Tendai Texts, Ideas and Practices and Its Position in East Asian Society. Series on Famed Mountains and Great Monasteries III. Edited by Jing Yue 月淨, Jinhua Chen 陳金華, Song Wang 王頌, 2022.
This is Volume III of the FROGBEAR Series on Famed Mountains and Great Temples. Sacred space is an essential component of any religious tradition and especially significant for transcultural religions such as Buddhism. It is hard to exaggerate the importance of holy sites in Buddhist history. While the far-reaching and widespread significance of Buddhist sacred territories has attracted the attention of scholars from various disciplines, there remains much work to be done both on specific locales of practice and interpretative strategies for understanding sacred sites in medieval China generally. This book series proposes to fill this scholarly gap through the collaborative and in-depth studies of 'famed mountains and great temples' (mingshan dasi 名山大寺), territories of exceptional importance in China and, in many cases, throughout the whole of East Asia.
This volume collects 16 of the over 40 papers presented to the International Symposium of Tiantai Studies under the theme of 'From Tiantai to Hiei: Transborder and Transcultural Spread of Tiantai/Chontae/Tendai Buddhism & East Asian Societies,' held in the winter of December 2019 at Peking University, hosted by the Center for Buddhist Studies at Peking University 北京大學佛教研究中心, sponsored by the Cultural Exchange Center of Mount Tiantai 天台山文化交流中心 and co-organized by the UBC FROGBEAR project. The conference was arguably the single most important conference on Tiantai/Chontae/Tendai Buddhism since the Tendai Congress at Mount Hiei in 1997. It showcases some of the most remarkable work on the subject over the past few decades.
Tiantai Text Culture: Bidirectional Circulation
1.  T. H. Barrett
A Short History of an Abbreviated Tang Tiantai Text
2.  Yamaguchi Hiroe 山口弘江
The Circulation and Reception of Tiantai Commentaries on the Vimalakīrti-sūtra in East Asia
3.  George A. Keyworth
The Amanosan Kongōji Edition of the Biography of Enchin by Miyoshi no Kiyoyuki: A Sacred Teachings (Shōgyō) Document that Chronicles the Reputation of Enchin and Miidera as the Penultimate Buddhist Temple in Medieval Japan
Doctrinal Reinterpretation
4.  Hans-Rudolf Kantor
Tiantai Doctrine in China: Practice qua Exegesis
5.  Melinda Pap
Zhanran's Arguments in Support of His Buddha-nature Theory as Presented in His Diamond Scalpel Treatise: Starting from an Analysis of the Title
6.  Li Zijie 李子捷
The Relationship between the Dasheng Zhiguan Famen 大乘止觀法門 and the Ratnagotravibhāga 究竟一乘寶性論 Based on the Theories of Tathatā and Tathāgatagarbha
7.  Ernest Billings Brewster
Different Yet No Different: Chuandeng (1554–1627) on the Two Aspects of Thusness (Tathatā)
Crossborder Transmission
8.  Bernard Faure
From Tiantaishan to Hieizan: The View from the Keiran Shūyō Shū 渓嵐拾葉集
9.  Lin Pei-ying 林佩瑩
The Tendai Use of Official Documents in the Ninth Century: Revisiting the Case of Monk Daosui
10.  Mónika Kiss
Ennin's Heritage: The Tendai Tradition of Fugen Enmei Bodhisattva
11.  Richard D. Mcbride II
The Memory of Ŭich'ŏn in Tiantai Histories of the Late Southern Song
Interactions with Other Buddhist Traditions
12.  Zhan Ru 湛如
The Merging of Tiantai and Vinaya: The Monks of Ximing Monastery and Mount Tiantai
13. Kanno Hiroshi 菅野博史
Zhiyi's 智顗 (539–598) View on the Relationship between the Lotus Sūtra and the Nirvāṇa Sūtra: A Comparison with the View of Jizang 吉藏 (549–623)
14. Ochiai Toshinori 落合俊典
A Treasure-house of Tendai Manuscripts Stored at a Shingon Branch Center: Kongōji 金剛寺 of Amanosan 天野山
15. Albert Welter
Borderland Complexes and Translocations: How a Japanese Tendai Monk Discovered Chan/Zen Buddhism in an Indian Buddhist Homeland in the Hangzhou Region
16. Sem Vermeersch
Ch'ŏnt'ae after Ŭich'ŏn: The Formative Period of the Korean Ch'ŏnt'ae Order