Cluster Leader: Marcus Bingenheimer, Temple University
The cluster "Religion and Technology" investigates how changes in communication technology have impacted East Asian religion and its study. The cluster is not only concerned with historical transitions from written to printed, or from printed to digital information, but also asks how current developments in information technology influence the practice and the study of East Asian religion.
The fieldwork and training aspect of this cluster aims to show how recent advances in information technology can be gainfully applied to the study of Asian religions. Participants will explore techniques such as GIS, social network analysis, text mining, and others, in order to gain new perspectives and acquire new skills.
View digital data collection from Cluster 1.2 here.
The report from the 2018 field visit can be found here.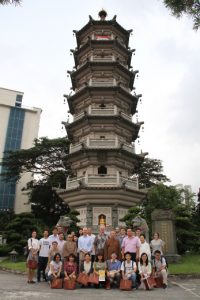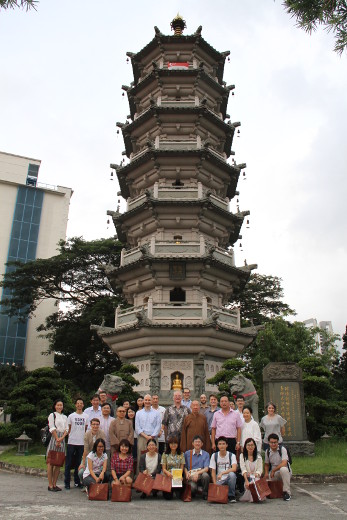 2018 field visit team
| | |
| --- | --- |
| Affiliated Researchers | Associated Researchers |
| Anderl, Christoph (Ghent University) – 2017 | Buckelew, Kevin (Columbia University) – 2017 |
| Bingenheimer, Marcus (Temple University) – 2017, 2019 | Chang, Pi-chun (National Taiwan Normal University) – 2017 |
| Burdorf, Suzanne (Ghent University) – 2017 | Chong, Eng Keat William (National University of Singapore) – 2017 |
| Brandstadt, Max (University of California Berkeley) – 2018 | Hung, Jen-jou (Dharma Drum Institute of Liberal Arts) – 2017 |
| Chen, Ruifeng (McMaster University) – 2018 | Li, Xinlu (Dongnan (Southeast) University) – 2017 |
| Lai, Rongdao (University of Southern California) – 2018 | Lin, Peiying (Furen University) – 2017 |
| Natasha, Heller (University of Virginia) – 2018 | Olles, Volker (Sichuan University) – 2017 |
| Rusk, Bruce (University of British Columbia) – 2018 | Seymour, Kelsey (University of Pennsylvania) – 2017 |
| Zu, Jessica Xiaomin (Princeton University) – 2018 | Shen, Lien Fan (University of Utah) – 2017 |
| Baycroft, Anne (University of Saskatchewan) – 2019 | Streiter, Oliver (National University of Kaohsiung) – 2017 |
| Gilon, Matan (Tel Aviv University) – 2019 | Travis, Travis (Temple University) – 2017, 2018, 2019 |
| Li, Xinglong (Capital Normal University) – 2019 | Wiles, Simon (Stanford University) – 2017 |
| Shmushko, Kai (Tel Aviv University) – 2019 | Wu, Jinhui (Arizona University) – 2017 |
| Sun, Xuejing (University of Southern California) – 2019 | Yan, Weiguang (Capital Normal University) – 2017 |
| Wang, Michelle (Georgetown University) – 2019 | Chang, Hsiukai (Donghai University) – 2018 |
| Xu, Lufeng (Institut national des langues et civilisations orientales) – 2019 | Chang, Poyung (DILA) – 2018 |
| | Chen, Ling (Leipzig University) – 2018 |
| | Chia, Jack Meng-Tat (National University of Singapore) – 2018 |
| | Chong, Eng-Keat William (Independent) – 2018 |
| | Han, Seokyong (Independent) – 2018 |
| | Hu, Jing ( Leiden University) – 2018 |
| | Kuklinski, Thomas (Temple University) – 2018 |
| | Scarin, Jacopo (Independent) – 2018 |
| | Stanley-Baker, Michael (Nanyang Technological University) – 2018 |
| | Tischer, Jacob (Boston University) – 2018 |
| | Zhan, Ya-Qing (Nanyang Technological University) – 2018, 2019 |
| | Zhao, Jinchao (University of Virginia) – 2018 |
| | Kuklinski, Thomas (Temple University) – 2019 |
Additional workshop participants from the National University of Singapore in 2018:
| | |
| --- | --- |
| Chua, Hui Chuan | Deng, Shengtao |
| Dong, Chang | Feng, Yikang |
| Gao, Bin | Huang, Zichang |
| Li, Cuiqin | Lin, Ruo |
| Liu, Jianyi | Lu, Shuang |
| Shen, Yeying | Su, Jui-lung |
| Sun, Yuanxin | Tham, Shiao Wei |
| Wang, Dean | Wang, Sisi |
| Wang, Xin | Wang, Yuxiao |
| Wu, Qi | Xuan, Yan |
| Xue, Yiran | Yang, Yan |
| Yang, Zhizhong | Yap, Sze Sze |
| Ye, Haoling | Yu, Kang |