We are excited to announce the online screening of Master Sheng Yen, hosted by the Sheng Yen Education Foundation.
Viewing Date: Wednesday, March 31, 2021, 00:00 am (Taiwan time)
Viewing Link: https://vimeo.com/518428064
Password: i9t5D0315
In 2020, the Sheng Yen Education Foundation has presented a documentary film《本來面目》; English title: Master Sheng Yen, in commemoration of the tenth anniversary of the Master's death. The movie explores his life stories and how he overcomes life difficulties and strives to be a good monk. See below for trailers:
To select your choice of closed captions, please click on the "CC" button in the video player.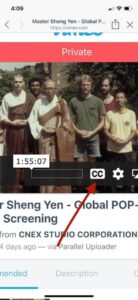 Read the press release here.