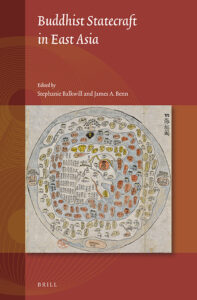 We are pleased to announce the release of the sixth volume in the series published by Brill: Buddhist Statecraft in East Asia. The book is edited by Stephanie Balkwill and James A. Benn. For more information or to order, please visit https://brill.com/view/title/61003
Buddhist Statecraft in East Asia explores the long relationship between Buddhism and the state in premodern times and seeks to counter the modern, secularist notion that Buddhism, as a religion, is inherently apolitical. By revealing the methods by which members of Buddhist communities across premodern East Asia related to imperial rule, this volume offers case studies of how Buddhists, their texts, material culture, ideas, and institutions legitimated rulers and defended regimes across the region. The volume also reveals a history of Buddhist writing, protest, and rebellion against the state.
Contributors are Stephanie Balkwill, James A. Benn, Megan Bryson, Gregory N. Evon, Geofrey C. Goble, Richard D. McBride II, and Jacqueline I. Stone.
Table of Content:
Acknowledgments (Page: vii)
Editors: Stephanie Balkwill and James A. Benn
List of Figures (Page: viii)
Editors: Stephanie Balkwill and James A. Benn
Notes on Contributors (Page: ix)
Editors: Stephanie Balkwill and James A. Benn
Introduction (Pages: 1–23)
Editors: Stephanie Balkwill and James A. Benn
Chapter 1 Metropolitan Buddhism vis-à-vis Buddhism at the Metropolis: How to Understand the Ling in the Empress Dowager's Name (

Pages: 

24–47)


Author: Stephanie Balkwill
Chapter 2 King Chinhŭng Institutes State-Protection Buddhist Rituals (

Pages: 

48–65)
Author: Richard D. McBride II
Chapter 3 The Commissioner of Merit and Virtue: Buddhism and the Tang Central Government (

Pages: 

66–86)
Author: Geoffrey C. Goble
Chapter 4 Images of Humane Kings: Rulers in the Dali-Kingdom Painting of Buddhist Images (

Pages: 

87–118)
Author: Megan Bryson
Chapter 5 Buddhism and Statecraft in Korea: The Long View (

Pages: 

119–139)
Author: Gregory N. Evon
Chapter 6 Refusing the Ruler's Offerings: Accommodation and Martyrdom in Early Modern Nichiren Buddhism (

Pages: 

140–179)
Author: Jacqueline I. Stone
Index (Page: 181)
Click here to the original posting