A lecture report by Maggie Mitchell can be found here.
Dr. Charles Li
"Reconstructing Ānanda's Grief in the Mahāparinirvāṇa Sūtra"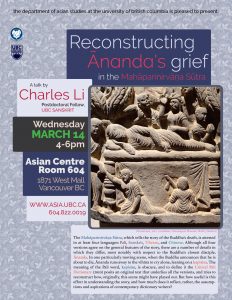 Asian Centre Room 604
1871 West Mall, Vancouver, BC
Wednesday, March 14, 4-6PM
The Mahāparinirvāṇa Sūtra, which tells the story of the Buddha's death, is attested in at least four languages: Pali, Sanskrit, Tibetan, and Chinese.
Although all four versions agree on the general features of the story, there are a number of details in which they differ, most notably with respect to the Buddha's closest disciple, Ānanda.
In one particularly moving scene, when the Buddha announces that he is about to die, Ānanda runs away to cry alone, leaning on a "kapisīsa". The meaning of this Pali word is obscure, and to define it, the Critical Pali Dictionary (2010) posits an original text that underlies all the versions, and then attempts to reconstruct how, originally, this scene might have played out.
But how useful is this effort in understanding the story, and how much does it reflect, rather, the assumptions and aspirations of contemporary dictionary writers?
Biography:
Charles Li (Ph.D. 2018, Cambridge University) is a specialist in Sanskrit grammar and literature, Indian Philosophy, Buddhist Studies, and South Asian Digital Humanities.
We are pleased to have Dr. Li with us at the Dept. of Asian Studies as a Postdoctoral Research Fellow to develop a comprehensive tool for digitally editing, analyzing, and presenting Sanskrit manuscripts.
In this presentation and the one on March 16, he will offer insights into his scholarly research in Buddhist Studies as well as a more informal demonstration/workshop on current developments and issues in digital approaches to premodern textualities.
Faculty and especially students from all disciplines and areas of focus are invited to attend as Dr. Li's work engages with multilingual and multidisciplinary materials.
Both March 14 and March 16 events are free and open to the public, and light refreshments will be provided.