Date and Time: September 23, 2022 from 6:30-8:00 PM
Location: UBC | The Nest Performance Theatre
This event is hybrid, and can be attended in person or online via Zoom. However you choose to attend, please follow this link to register. In person attendees will be asked to follow all current UBC pandemic health guidelines in response to COVID 19, such as masking indoors.
This event is free and open to the public, made possible by the generous support of The Robert H. N. Ho Family Foundation.
About this Event
Teaching Buddhism with and through the body offers exciting possibilities. From community engaged and work integrated learning to role play, field schools, and object lessons, this presentation explores diverse ways of using body activity as a catalyst to learning in our undergraduate courses. Pursuing this topic, it considers both how embodied approaches benefit students of Buddhist Studies and what co-designing for equity in this wonder-filled context might entail.
About the Speaker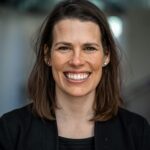 Professor Susan Andrews (Mount Allison University)
Susie Andrews works as a scholar of narrative and specializes in the study of East Asian religiosities, exploring storytelling as both a record of lived religion and an engine of religious change for individuals and communities past and present. Her research responds to cross-cultural and trans-temporal patterns in religious storytelling, allowing her to investigate trends in highly diverse settings like seventh-century villages encircling China's Mount Wutai (Wutai shan 五臺山), the Heian capital of Chōnen's 奝然 (938–1016) lifetime, and even contemporary hubs of early learning in the Canadian Maritimes. Dr. Andrews' genuine passion is university teaching, especially teaching in collaboration with early childhood and elementary school educators, librarians, publishers, authors, government experts, antiracism activists and other humans in my community. In 2021, she was honored to receive the Herbert and Leota Tucker Teaching Award, Mount Allison University's highest recognition for teaching excellence, and in 2022 she was delighted to be the recipient of the Association for Atlantic Universities Distinguished Teaching Award.
This keynote is part of the academic workshop, Buddhist Bodies Fall 2022 Workshop, an event held in collaboration with the Buddhist Bodies Collective
Visit the original event page.