A report of the lecture by Sarah Fink is available here.
A Chinese report of the lecture by Xian'ao is available here.
Watch the full lecture on YouTube:
The Tianzhu Network for the Study of Buddhist Cultures, with administrative support from FROGBEAR, proudly presents a lecture by Dr. Rey-Sheng Her, Tzu Chi Foundation.
When: Thursday, November 7, 2:30-4 pm
Venue: Room 604, Asian Centre, 1871 West Mall

Abstract: Dharma Master Cheng Yen says that the Bodhisattva saves others first before he saves himself.  Until all beings accomplish the Buddha Nature, he then accomplishes his supreme enlightenment. The impurity and toughness of sentient beings provide positive elements for the Bodhisattva to accomplish the Buddha spirit. The lotus grows up in dirty mud, and through the mud, lotus acquires its nourishments, so as the sentient beings to be nourishing the ultimate wisdom of Bodhisattva.
This lecture shall focus on the philosophy and practices of altruism that advocated by Dharma Master Cheng Yen. Following the teaching of "Infinite Meaning Sutra", Dharma Master Cheng Yen establishes Tzu Chi Dharma Path and advocates that through helping others, one shall purify his or her spirit. By endlessly devoted to the earthly purification, one will acquire infinite wisdom and reach the ultimate calmness. Although we are all imperfect mortal beings, and yet by following the divine dharma we may transport all sentient beings to reach the awakening ashore, and concurrently we reach the state of Nirvana altogether.
About the speaker: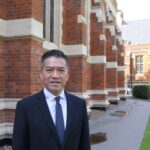 Dr. Rey-Sheng Her is currently a Visiting Scholar at Columbia University, and adjunct Associate Professor at National Chengchi University.  He was a visiting scholar at Oxford University, Cambridge University and Columbia University in 2018 and 2019.  He has served as the Spokesman and Director of Humanity Development of Tzu Chi Foundation since 2002. He obtained his Ph.D. in Philosophy from Peking University. Master of Art on Communication Management, the Annenberg School for Communication of University of Southern California.
His study interests include NGO Management, Chinese Philosophy, Charitable Philanthropy, Transcultural Goodness, and Communication Theories.  His recent research focuses on the philosophy of altruism and its application to organizational governance and economic life.
As a veteran media professional, he was a senior news anchor and TV program producer. The documentary he produced "The Great Love as a Running Water: Testimony to the Development of Bone Marrow Transplantation", was selected by the 32nd Emmy Award International as the best documentary in the regions of Asia and Africa.
His publications include "Economy of Goodness—The Philosophy of Altruism in Economy" (In Publishing), "From Altruism to Ultimate Awakening", "Constructive Journalism"; "The Philosophy and Practices of Buddhist Tzu Chi, "The Moment of Inspiration", and "The Great love as a Running Water—The Humanity Perspective on the Bone Marrow Transplantation"; edited "The Dialogue of Environment and Religion", "Compassion Relief for Syrian Refugees", "The Universal Values of Buddhism & the Dharma Path of Tzu Chi".
This event is free and open to the public, but pre-registration is preferred.
Registration is closed enlightenment-altruism-lecture.eventbrite.ca