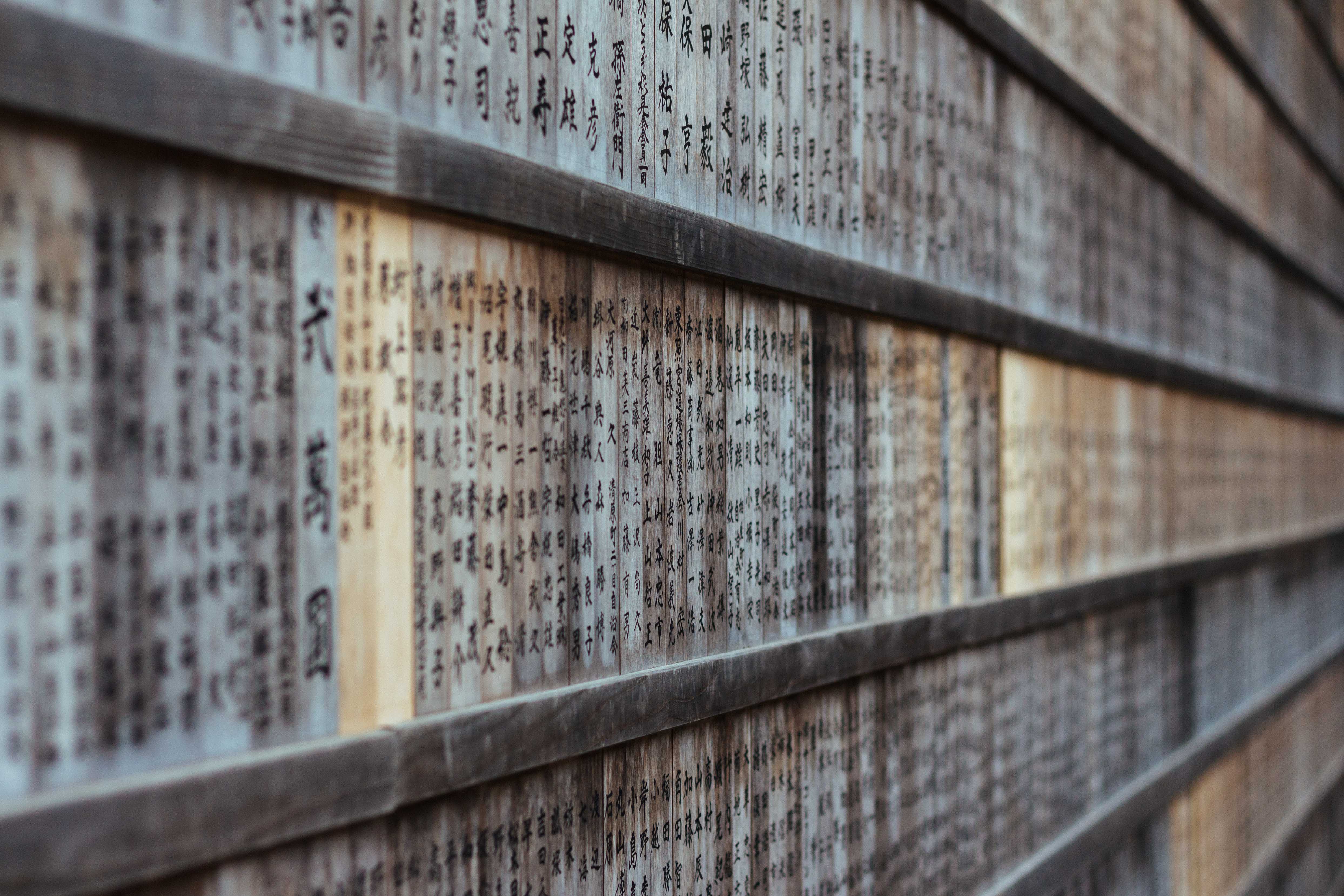 Cluster Leader: George Keyworth, University of Saskatchewan
This cluster is tasked with investigating two questions: what roles did editors, scribes, translators, and readers play in canon-making of Buddhist literature in Chinese, and how did non-religious factors shape this process? The goals of cluster 2.2 are to identify, catalog, and examine where "secondary" production took place and which individuals, groups, or institutions played prominent roles in re-shaping the canon(s). During the summer of 2017, researchers and students will take field trips to several sites in Kyoto where the Matsuo shrine canon is currently held (Myōrenji 妙蓮寺 and Furitsu sōgō shiryōkan 京都府立総合資料館) and where it was produced (Matsuo shrine 松尾大社). We will also visit Tendaishū 天台宗 sites in Shiga prefecture 滋賀県 where the Matsuo scriptures were copied from (Miidera 三井寺, Eizan bunko 叡山文庫), and one (or two) other temples with twelfth-century manuscript canons of their own (Shingonshū 真言宗: Ishiyama-dera 石山寺 and Amanosan Kongōji 天野山金剛寺 or Daigoji 醍醐寺).
View digital data collection for Cluster 2.2 here.
The report from the 2018 field visit can be found here.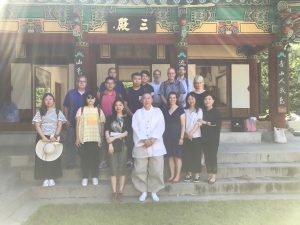 Photo of 2018 group
| | |
| --- | --- |
| Affiliated Researchers | Associated Researchers |
| Baycroft, Anne (University of Saskatchewan) – 2017, 2019 | Baba, Hisayuki (Bukkyō University (Kyoto)) – 2017 |
| Bingenheimer, Marcus  (Temple University) – 2017 | Daisuke, Teshima (Nagoya University) – 2017 |
| Doell, Steffen (University of Hamburg ) – 2017, 2018 | Duoer, Daigengna (University of Toronto) – 2017 |
| Galambos, Imre (Cambridge University) – 2017, 2019 | Guilbault, Russell (University of Buffalo) – 2017 |
| Hou, Xiaoming (École pratique des hautes études) – 2017 | Jamentz, Michael (Ritsumeikan University (Kyoto)) – 2017 |
| Keller, Matthew (University of Southern California) – 2017 | Kenryō, Shibata (Nagoya University) – 2017 |
| Keyworth, George (University of Saskatchewan) – 2017, 2018, 2019 | Lin, Pei-ying (Fu Jen Catholic University (Taiwan)) – 2017, 2018 |
| Kochinski, Lisa (University of Southern California) – 2017 | Pedersen, Hillary (Doshisha University) – 2017 |
| Messerschmid, Léo (University of Hamburg) – 2017 | Tsui, Chunghui (University of Hong Kong) – 2017 |
| Wu, Jiang (University of Arizona) – 2017, 2019 | Tu, Xiaofei (Appalachian State University) – 2017 |
| Andrews, Susan (Mount Allison University) – 2018 | Borgen, Robert (University of California Davis) – 2018 |
| Chon, Barom (Temple University) – 2018 | Gong, Yi (University of Arizona) – 2018 |
| Kim, Youn-mi (Ewha Womans University) – 2018, 2019 | Grossman, Eike (Hamburg University) – 2018 |
| McBride, Richard (Brigham Young University-Hawaii) – 2018, 2019 | Tian, Menglu (University of British Columbia) – 2018, 2019 |
| Roh, Yohong (Temple University) – 2018 | Wu, Chih-ying (University of California Berkeley) – 2018 |
| Zhai, Minhao (Princeton University) – 2018 | Chan, David (University of Michigan) – 2019 |
| Van Cutsem, Laurent (Ghent University) – 2019 | Shibata, Kenryō (Nagoya University) – 2017 |
| Luo, Yuqing (Columbia University) – 2019 | Teshima, Daisuke (Nagoya University) – 2017 |
Myōrenji Temple


Myōrenji Temple, Kyoto, Japan

Matsuo Taisha


Matsuo Taisha, Kyoto Prefecture, Japan

Miidera


Miidera, Shiga Prefecture, Japan

Ishiyamadera


Ishiyamadera, Shiga Prefecture, Japan

Haeinsa 海印寺


Haeinsa 경상남도, South Korea

Tongdosa 通度寺


Tongdosa 通度寺, Yangsan, Gyeongsangnam-do, South Korea

Pulguksa 佛國寺


Pulguksa 佛國寺, Jinhyeon-dong, Gyeongju, Gyeongsangbuk-do, South Korea

Yunjusi 雲居寺


Beijing